The who's who guide to your sector
Offering wealth of information at your fingertips, the annual EDA Key Contact Directory (KCD) is a limited circulation publication only issued in January each year to those listed within.
The KCD is designed as an aid to networking and to helping you build relationships with senior contacts. It isn't a listing of your branch networks.
Your 2018 edition is our biggest ever, offering the contact details of over 960 senior executives of our wholesaler members and affiliate manufacturers/service providers. And for the first time in 2018, you benefit from sector-wide events calendar to help you maintain avoid diary clashes.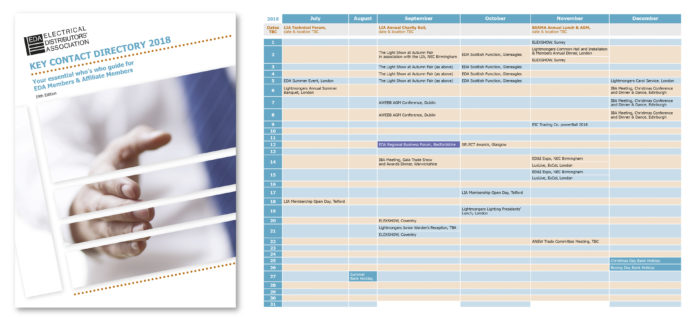 Is your listing correct?
The EDA team will be in touch in the autumn preceding publication to check your listing.
Please help us by checking the details promptly and advising us of any changes in personnel. If we don't hear from you we have to assume there are no changes to be made.
Have you checked your online listing too?
Don't forget, your company details are also included on this site in our searchable directory of all members and affiliates. Use the quick links below to check your details and, if you need to make a change, please let call the EDA team on 020 3141 7350.
Wholesaler members: check your listing here
Manufacturer / service provider affiliates: check your listing here.