Attracting talented newcomers keen to launch careers in wholesale and merchant businesses was at the heart of a recent event to announce a brand new apprenticeship standard for the sector – Trade Supplier Level 2.
Hosted jointly by the Electrical Distributors' Association (EDA) and the Builders Merchants Federation (BMF), over 50 guests from employers and training providers were joined by representatives from Ofqual (Office of Qualifications and Examinations Regulation), the Institute for Apprenticeships and the Government's Education & Skills Funding Agency.
A bespoke Standard, 2 years in the making
This launch marks the culmination of two and a half years' work by a group of employers, large and small, working together as 'trailblazers', initially led by EDA and its members, who were joined later by the Builders Merchants Federation and some of their leading members. The apprenticeship is tailored specifically for new recruits to any B2B wholesaler or merchant business involved in selling goods and services between manufacturers and their skilled trade customers, including electro-technical, plumbing, timber, or general building supply sectors.
Hard work and commitment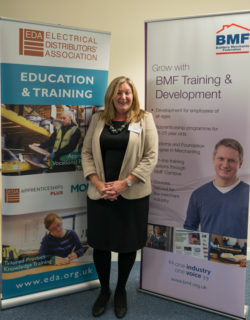 Chair of the trailblazer group, Vicky Ordish, Learning and Development Business Partner with Rexel UK Ltd, said,
"It's fantastic news to receive official approval for the Standard, and to have the Standard and Assessment Plan published. It is testament to the hard work and commitment of our trailblazers.

"We've ensured that this one-year apprenticeship is a rigorous programme of training in all aspects of a typical wholesale branch. The end-point assessment includes online tests, real-life practical observations and a professional discussion, with candidates achieving a pass, merit or distinction. This is all designed to provide apprentices with the essential skills and knowledge from which to progress their careers."
"A first for the Association"
Margaret Fitzsimons, CEO at the EDA, added
"Created by wholesalers for wholesalers, this new entry-level apprenticeship reflects the substantial commitment and knowledge sharing from across the building, timber and joinery, kitchen installation and electro-technical sectors. It has been a pleasure to work with similar trade associations and their members to pool our significant wholesaling experience.

"We have created a new training bench-mark for our sectors which will have a significant impact in attracting new talent.  I understand that this Standard is number 334 for the Institute for Apprenticeships but it is certainly Number 1 for the EDA: It is a first for the Association to create a recognised standard and I am certain that this will be the number one apprenticeship in terms of popularity and take up among our members in 2018 and beyond.

"Its development has been crucial for our members. They need an apprenticeship standard that is of direct relevance to their businesses and allows them to use their Levy funding or Government co-funding wisely. While our members' organisations may vary in size from billion pound operations with hundreds of outlets to one-branch businesses, the one thing they have in common is that they operate branch structures so, in effect, each apprentice is becoming part of a small business unit, dealing with skilled trade customers."We will be working hard to see about 500 apprentices starting on this Standard in our members' electrical wholesale outlets each year and I believe there will be similar numbers in other building trade wholesalers.

"The Association will now work with our partner apprenticeship training company, EDA Apprenticeships Plus, and our roster of training providers to ensure they are fully briefed and ready to deliver the new employer-led standard for our members."
Ofqual and the Institute for Apprenticeships
Phil Beach CBE, Executive Director for Vocational and Technical Qualifications at Ofqual, added,
"I was delighted to attend the launch of the new standard for which Ofqual provides external quality assurance. We are committed to working with the EDA, and other trailblazers, to ensure that apprenticeship end point assessments meet their needs."
A spokesperson for the Institute for Apprenticeships added,
"It is great to see such energy behind this standard. Our role is to help trailblazer groups to create apprenticeships of the highest possible quality, getting the best outcomes for employers and learners alike.

"This new standard will give learners across the country a fantastic chance to develop the business and logistics skills which keep our industries on the move."